Trailer - S1E11 + S1E12
"Church Softball" and "Black Tie Bingo" drop on 10/1 and 10/8
3 years ago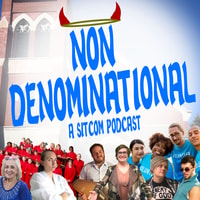 Non Denominational: _A Sitcom Podcast _
Season 1, Episode 11 of Non Denominational drops Next Tuesday, October 1st In "Church Softball", SCONE prepares for a softball match against their rival, Deerfield Friends Community Church
Season 1, Episode 12 of Non Denominational, drops on Tuesday, October 8th In "Black Tie Bingo", everyone dresses up for Bingo while Elijah and Jonathan fight over who is going to serve the meal.
---
Non Denominational is a sitcom podcast that follows Pastor Jamie and Liturgical Minister Elijah's non denominational church: Society of the Children of the Natural Earth (SCONE).
Following a secretary who stole all their money, they hire Liv who is just here for a job. There's also the smarmy part time gay employee Jonathan, the volunteer Carol Ann and the church's antagonist Marcy.
Find out more at https://non-denominational.pinecast.co